How To Watch TV Shows and Movies
The site is set up to view titles on the streaming services to which you subscribe. You can watch on your phone or cast to your other devices like a Living Room TV.
Cursor over a TV show or movie thumbnail, the profile link icon in the center and small streaming service buttons below will appear.
Just click on a button to launch the title on your Netflix, Vudu or Amazon Prime app and start viewing. You can also set favorites and notifications by selecting icons on upper right.
Or, click on a TV show or movie thumbnail to open a profile page that displays all of the streaming services carrying that title, including free services such as Vudu and TubiTV.
Click on one of the buttons to view the title on your phone.
2oobz Instructional Videos
Click the screens below to access instructional videos.
Setup Your 2oobz Account and Profile
Browse Massive TV and Movie Database
Filter And Sort By Categories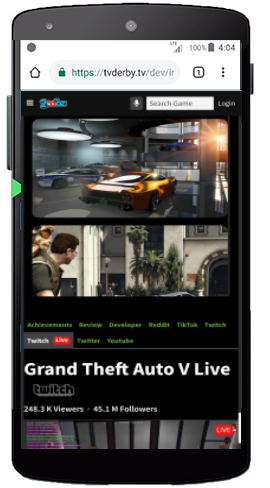 Search By Voice Commands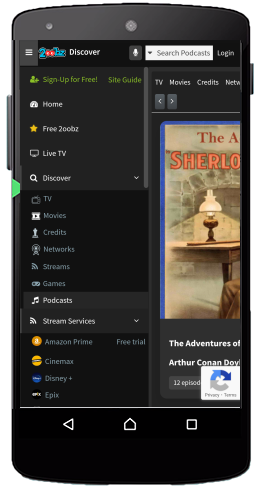 Manage & Listen To Podcasts
Watch Or Record Live TV
Home Page
2oobz's home page displays the latest entertainment information. The slide show banner at the top of the page showcases new movie releases.
Below that are rows of thumbnail sliders highlighting new titles on streaming services, what's new, best reviewed and most popular TV shows and movies. Scroll further down the page to access trending celebrities and the latest entertainment news.
Log in to 2oobz and the TV shows, movies and celebrities you select as favorites will be displayed as your personalized, media home page.
Free 2oobz Page
Who doesn't want free stuff? The Free 2oobz page lists all of the free TV shows and movies offered on every streaming service. Just click the "free" icon on the upper left of a title thumbnail to find out where free access is offered.
Log into 2oobz and the streaming services you assign in your account settings will automatically aggregate in your My Services feed. You can also select any available stream service or stream channel to list and filter by genre.
LiveTV Page
Enter your zip code and select a headend that corresponds to your home television setup. View the LiveTV Guide to get detailed information about currently playing content.
Log into 2oobz, go to your Profile and input your ScheduleDirect credentials in the TV Guide tab. Now your LiveTV Guide will be saved and available each time you log in.
2oobz will soon offer the ability to access your home broadband network and private media server (if you have one). You'll be able to view your cable or satellite offerings from anywhere and DVR content. Save big bucks on your yearly cable bill by using 2oobz's easy and flexible DVR option.
Discover Pages
Think of the Discover pages of 2oobz as a giant, worldwide media bucket, where profiles of more than 400,000 movies, 40,000 TV shows, 250,000 cast members, and 175,000 crew members are stored.
Search titles by voice or text commands to read ratings and reviews, find out where to buy them, monitor social media activity, and explore highly detailed cast and crew information.

The Discover TV Tab lists more than 40,000 TV show titles. Select search sort criteria such as what's new, best reviewed or most followed TV shows. The Discover TV tab offers filter criteria such as genre, country, language, production status and view types. You can also filter titles by actor or release date range.

The Discover Movie Tab lists more than 400,000 movie titles. Select sort criteria such as what's new, best reviewed or most popular movies. The Discover Movie tab offers filter criteria such as genre, country, language, and view types. You can also filter titles by actor, production company, or release date range.

The Discover Credits Tab lists more than 250,000 cast and 175,000 crew members. Sort them alphabetically, by number of roles or awards. You can select cast and crew by gender, country, or language. The crew listing also allows you to search by specific job titles such as producer, director, or writer.

The Discover Networks and Streams Tabs list TV shows and movies available worldwide on all broadcast networks, streaming services and channels. The slider at the top of the page sorts networks and streams offering the most original content. The Stream Services Menu displays comprehensive listings of each major Stream Service.
Stream Services Page
The Stream Services page is the Switzerland of the worldwide media landscape. It's neutral!
You can quickly see what content is available to watch on 17 major streaming services all in one place. Cursor over any title thumbnail to display icons of streaming services or channels offering that title.
Click on an icon to launch the title in your browser or its related mobile app. You'll be watching or casting to your living room TV in seconds. That's the power of 2oobz-- it turns your smartphone into a smart remote.
Stream Channels Page
The Stream Channels tab lets you explore the vast diversity of available content. Eclectic, niche and genre-specific offerings are organized across more than 100 stream channels.
All stream service and stream channels can be selectively assigned to your 2oobz account. Now you can easily see what's available from all your paid and free sources.
Nearby Theatres Page
Enter your zip code to see what movies are playing at the theatres in your area. You can also access online ticket purchase options.
2oobz Voice Search Commands
From Anywhere On Site:
You can switch to any location by voice command on the 2oobz site. Press the microphone icon on the top right, after the beep say
active home
active tv
active movies
active cast
active crew
active games
active podcasts
active news
active netflix
actice hulu movies
active hbo
or the name of any other stream service available on the site for instant access
to clear the search results say
search clear
From Discover page:
TV, Movies, Credits, Networks, Streams, Games, Podcasts Tabs
search "show/movie name"
search keywords "keywords"
search phrase "phrase"
order by "Best Reviewed"
genre by "Family"
have actor "Harrison Ford"
show type "Game Show"
show status "ended"
have actor "Harrison Ford"
clear / search clear / clear search
All sorting with multiple commands: